The Unexpected Journey that Led to Six New Homes
The nation is facing an affordable housing crisis and Rochester is not immune to its effects. Rents are rising, the stock of smaller, starter homes is limited, and new construction seems to exclusively target high-income buyers and renters. According to the 2020 Olmsted County Comprehensive Housing Study, Olmsted County is woefully behind the number of new housing units needed to accommodate the county's projected population growth in the next 10 years.
The solution seems simple- just build more affordable housing.
But the path from deciding to build more affordable housing to actually building it is more akin to an obstacle course, full of obstacles and slippery terrain.
First Homes' most recent new-construction affordable housing project, the 9th Avenue Row Houses, demonstrates how building affordable housing is anything but straight-forward.
Founded in 1999, First Homes has been working to create and preserve affordable homeownership opportunities in Southeast Minnesota using the Community Land Trust (CLT) model. The CLT model, used across the United States, utilizes an affordability cycle to make and keep homeownership affordable for income-qualified buyers.
The process starts when First Homes subsidizes a home and sells it at below market-rate to an income-qualified buyer. The buyer enjoys many of the traditional benefits of homeownership including building equity. When the homeowner decides to sell, the appraised equity of the home is shared 50/50 with half staying with the home. This builds on the original subsidy, keeping the home affordable for the next income-qualified buyer in the face of rising housing costs. Then, the affordability cycle starts again.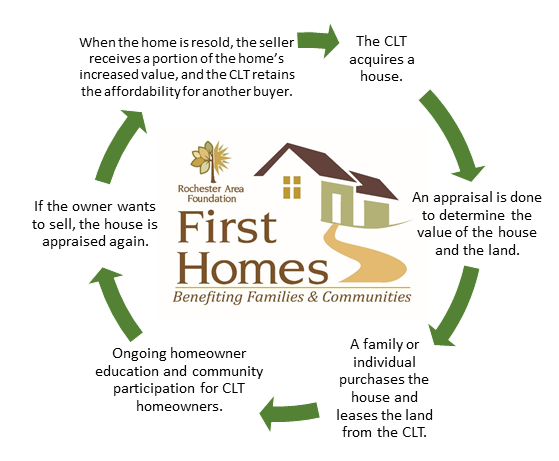 Through a combination of acquiring homes in need of renovation and new construction, First Homes has grown to over 250 homeownership opportunities in Southeast Minnesota. While acquiring already affordable homes to renovate is the quickest way for First Homes to grow the affordable housing stock, new construction is also critical to address the housing shortage.
First Homes received a grant to build a new single-family home on a lot it owned in Southeast Rochester.
However, these plans coincided with the creation of a Transit Oriented Development (TOD) corridor, providing residents with greater access to public transportation options, downtown amenities, and encourages new business developments in the area. It also requires future development in the TOD to be higher density. This meant that First Homes' plan for a single-family home had to evolve.
In 2021, the property next to First Homes' lot went on the market. This house was affordably being rented out to a family. When First Homes purchased the home, the family's lease was honored, but they faced a new challenge. There were few rental properties available that they were able to afford. Fortunately, the year before, First Homes purchased the nearby Center Street Village Apartments in order to preserve them as an affordable rental option. After the family's lease was up, they were able to relocate to Center Street Village.
Now with two lots, First Homes faced their next building challenge; what did higher density housing in a residential neighborhood look like?
Director of Projects, Justin Voss, had to get creative.
"My goal was to create six units on the site. Albeit with how limited the size of the site was I felt it was possible," said Voss.
Working closely with local architecture and design firm CRW Architecture, Voss worked to develop plans for the site.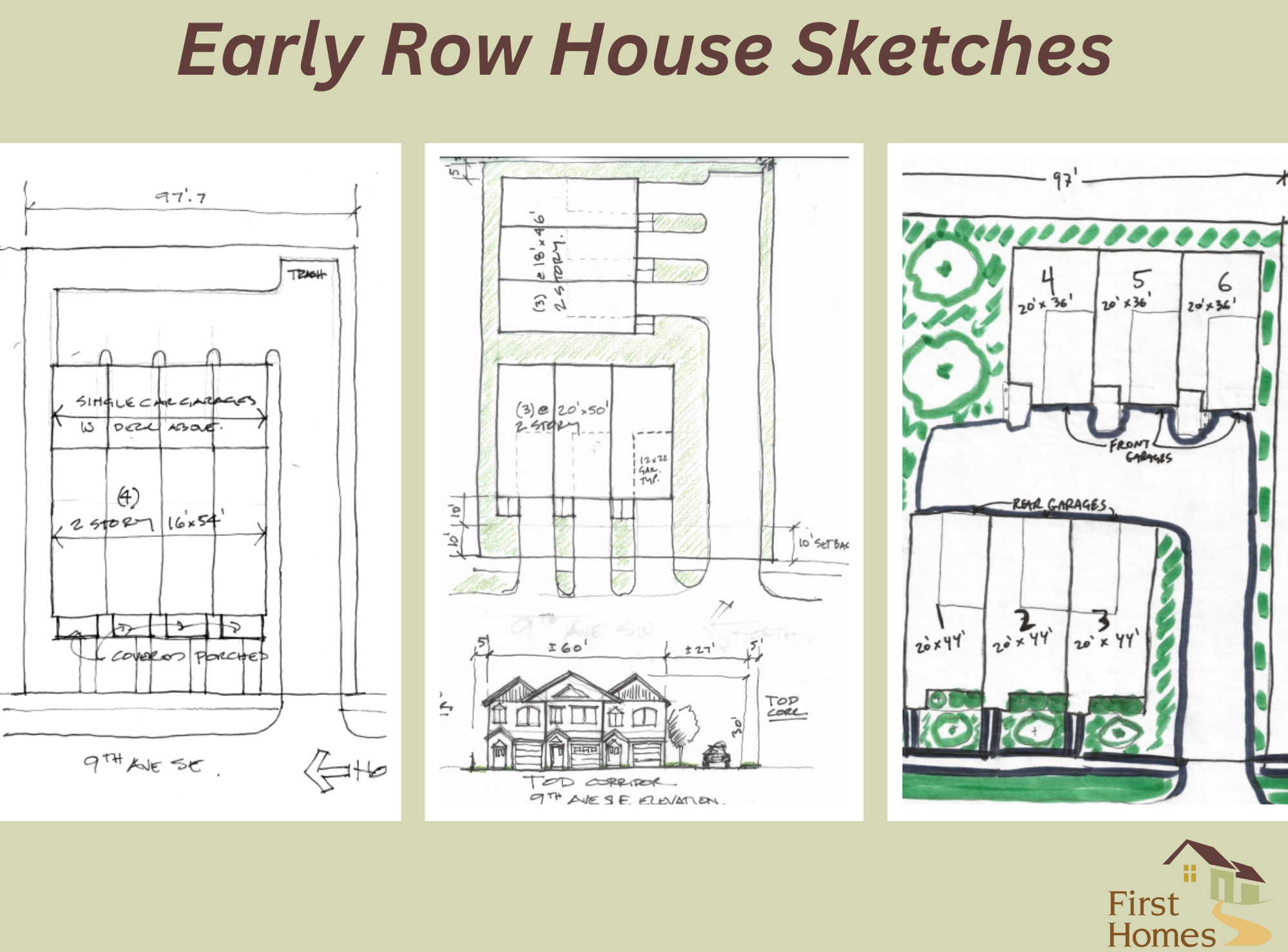 "We collaborated back and forth for a few weeks with probably a dozen possible designs. We even explored a three-level condo. We ultimately landed on this three and three layout," Voss explained.
The result would be two buildings with three units each. One building would have two-bedroom units while the other would have three-bedroom units.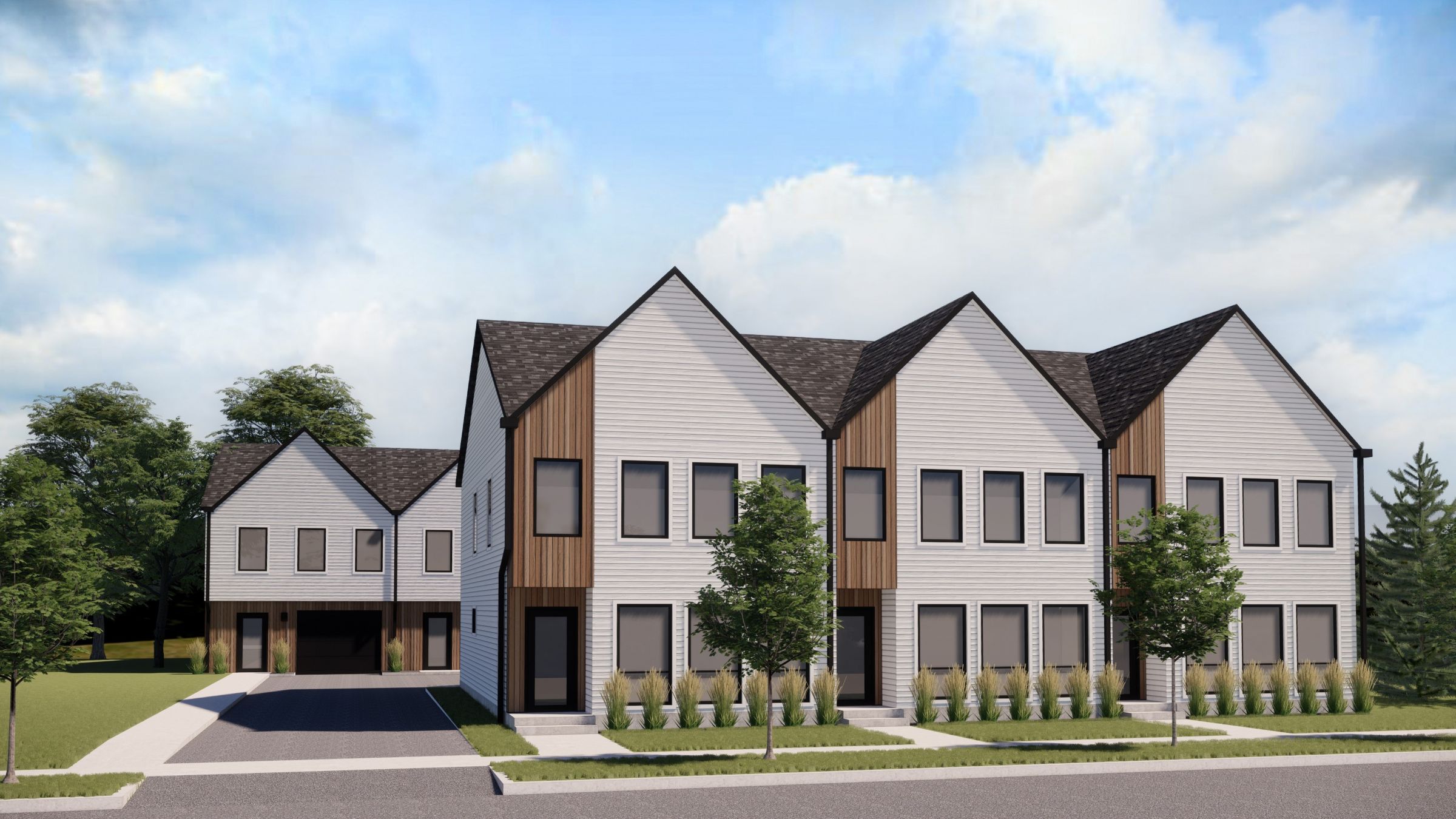 Final Rendering of the Row Homes by CRW Architecture
Taking two lots and building six for-sale units on them was an ambitious project and the first of its kind for First Homes. It would also require significant funding.
In addition to receiving funding from Minnesota Housing Finance Agency, First Homes applied for funding from the Coalition for Rochester Area Housing, a local organization that works to bring community partners together to support the creation and preservation of affordable and workforce priced housing in the Rochester area.
"The 9th Avenue Row Home Project is an innovative development in our community that will provide the opportunity for residents who could not otherwise qualify for homeownership to take that first step in building equity and economic security for their families," said JoMarie Morris, Executive Director of the Coalition for Rochester Area Housing. "The Coalition is proud to support this project that checks all the boxes including convenience to transportation, a walkable neighborhood with downtown core job opportunities, and also provides a legacy in local investment for generations to come."
First Homes solicited bids from local builders and partnered with Kramer Contracting, a local general contractor offering construction management services. Kramer has worked on a variety of local new-construction projects and were excited to take this unique project.
"Working on the First Homes Row House project has been satisfying," said Kramer Project Engineer, Kris Shumway. "There will now be six more units of housing in Olmsted County that are available to people who may have otherwise been kept out of home ownership."
After years of waiting, pivoting, and planning, First Homes broke ground on the 9th Avenue Row Houses on June 16th, 2022. "We know there is a need for 6,000 new homeownership opportunities in our community. So we're here to celebrate six of those," said First Homes President, Jennifer Woodford at the groundbreaking event.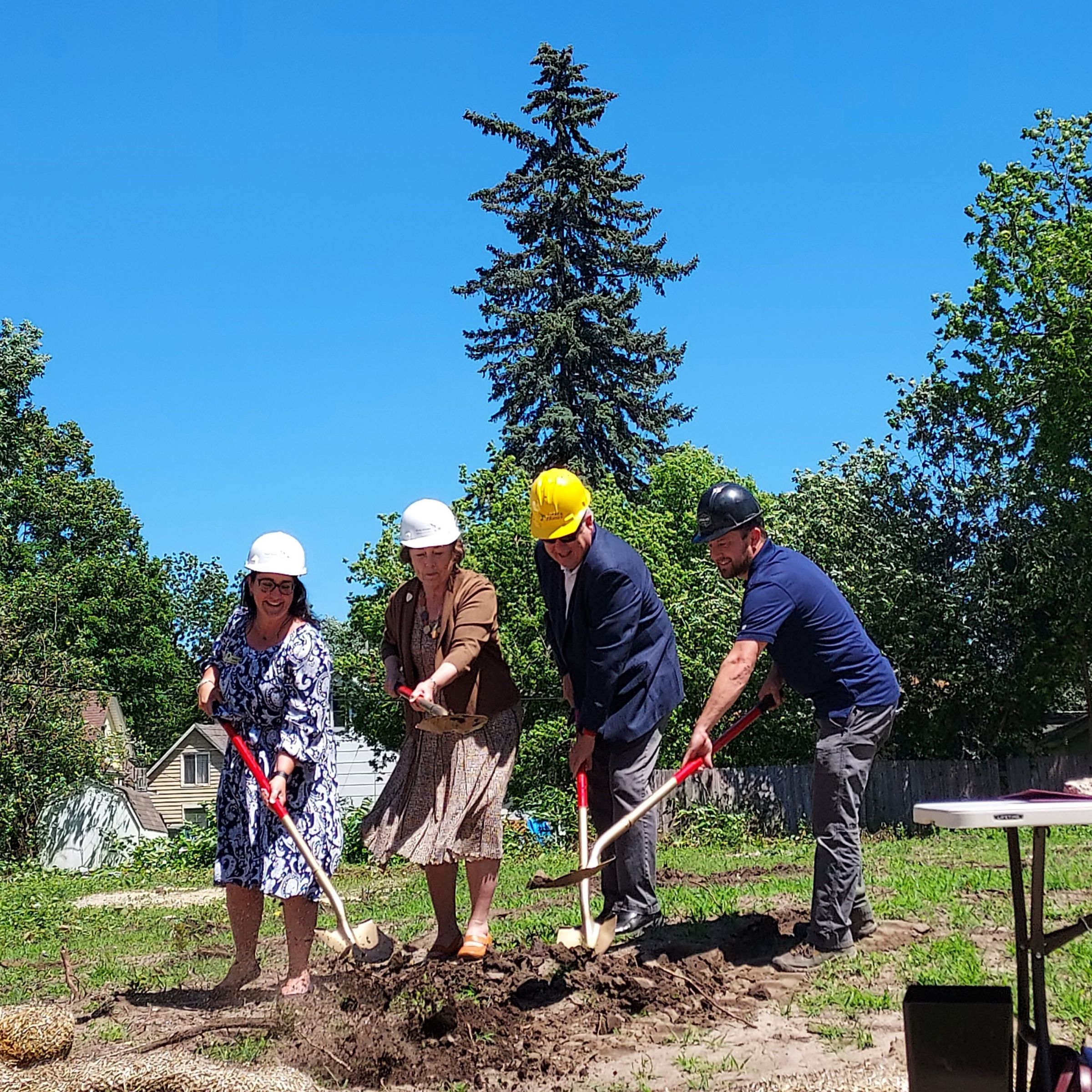 "It might seem small, but really the key here is all these partners coming together are committed to this work, to these six homes, and towards moving the needle towards supporting affordable housing in our community."
While the groundbreaking was a welcome celebration after years of work, it was just the beginning of the project.
First Homes proposed an earnest schedule of completing all six homes by the summer of 2023.


Row Houses Groundbreaking Event
Even for an experienced contractor such as Kramer, the Row Houses build presented unique challenges.
"One challenge has been meeting the Energy Star requirements," explained Shumway. "However, through working with First Homes staff and consultants we were able to meet the Energy Star requirements and provide a comfortable and energy efficient building."
Meeting Energy Star requirements will not only help the homes be comfortable, but also promote more affordable utilities for homeowners.
Battling weather and supply shortages, the six Row Houses began to take shape and were completed, on schedule, in the summer of 2023.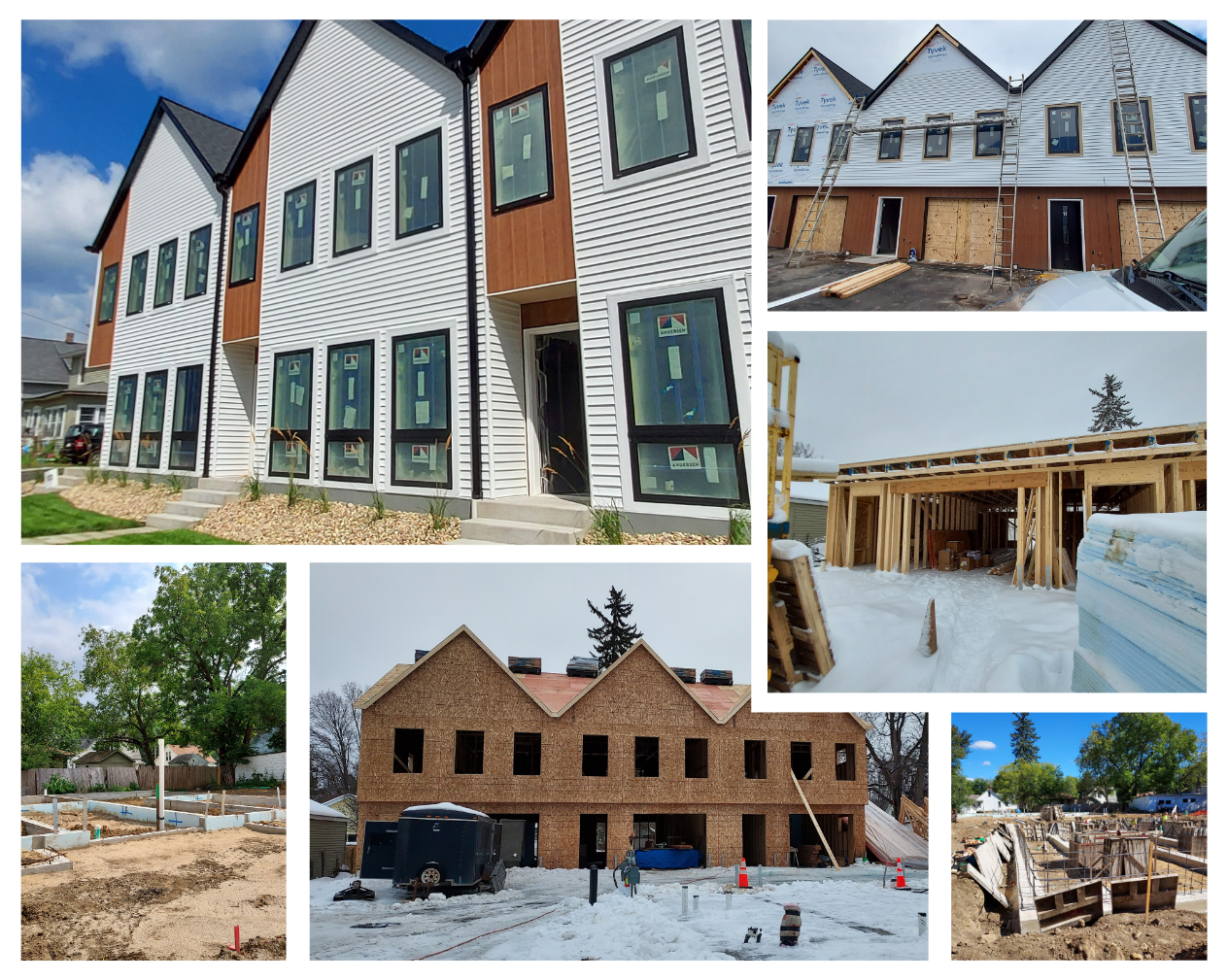 "It has been incredible seeing the homes being built," said First Homes Program Associate, Emily Neville. "Especially considering all of the work that was done before breaking ground."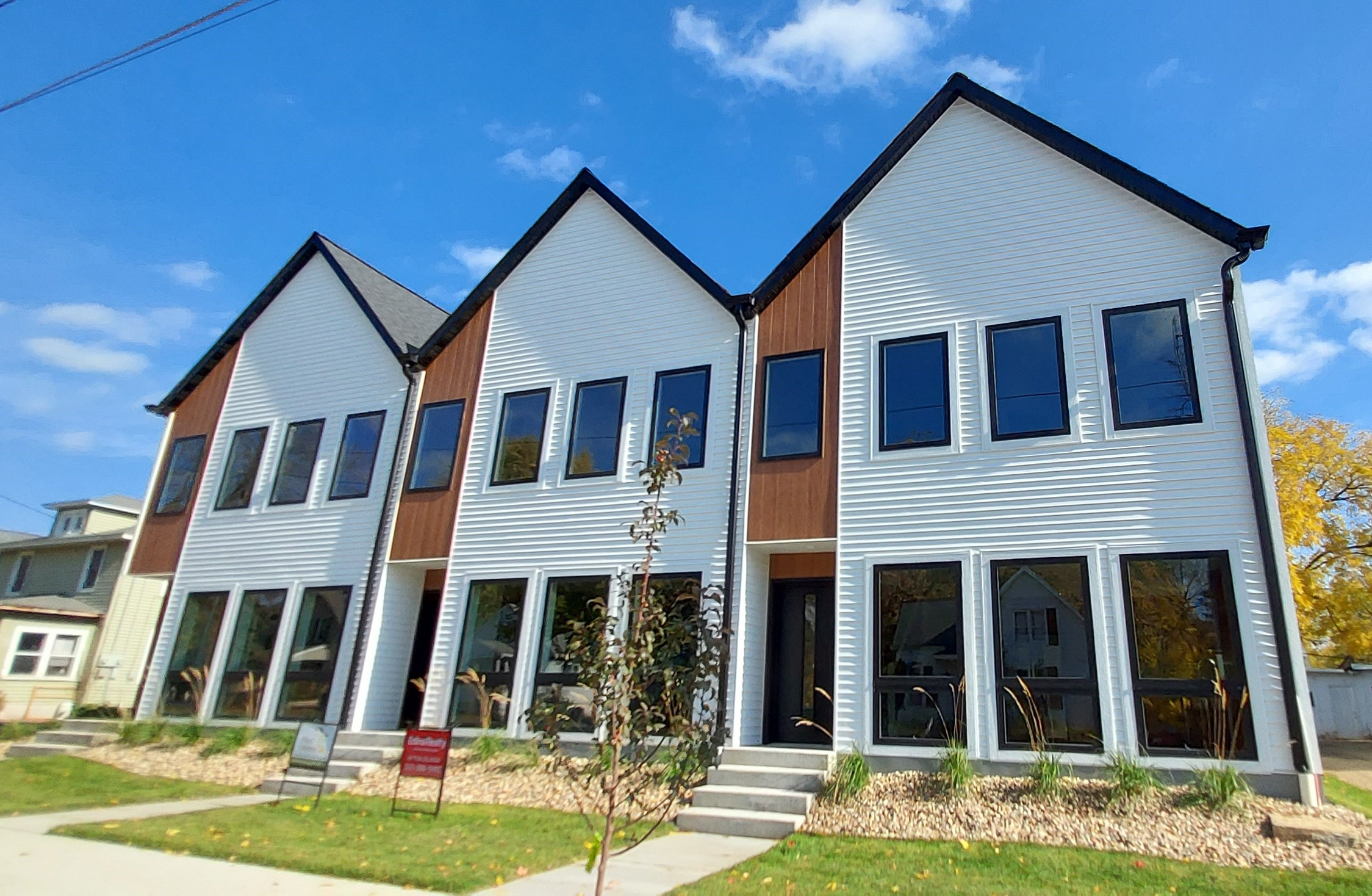 After years of planning and successful community collaboration, the 9th Avenue Row Houses have been completed and are available for sale. This brings six new affordable homes to the community, adding to the desperately needed supply.
Building the Row Houses would not have been possible without state funding, support from generous community partners, and the dedicated First Homes staff. Even with all of this, affordable housing projects can face a variety of barriers such as rising construction and land costs, zoning changes, and policies that don't incentivize the new-construction of affordable housing.
"There can be a lot of obstacles to building more affordable housing which are frustrating," commented Neville, "But that makes successful projects like the Row Houses even more satisfying."