"This is Christmas Letter News" Homeowner Finds Freedom in Accessable Home
2020 proved to be an especially challenging year for Rochester resident, Lisa Lundquist. In addition to a global pandemic, Lundquist was struggling with a series of falls.
"I thought it was my hip," Lundquist recalled.
Thinking the cause was arthritis, she began using a walker to get around, but continued to fall in her home. Each time she fell, Lundquist had to call the local emergency medical technicians (EMTs) to help her get back on her feet. Her home became well known to the EMTs and she soon knew them all by name.
After numerous visits from EMTs, one paramedic told Lisa that that she was getting on the ambulance and going to the hospital. She boarded the ambulance and met a waiting EMT.
"So, it's the spine, huh?" the EMT said.
Lundquist was shocked. She was certain the cause of her falls was arthritis, but in just moments, the EMT had successfully identified the reason for Lundquist's falls.
Within the next 24 hours, Lundquist was diagnosed with a tumor on her spine and underwent surgery to remove it. She thought her ordeal was over.
"I never imagined I wouldn't walk again."
Lundquist started her nonprofit career working for the Girl Scouts of the United States of America. After graduating with her bachelor's degree in English and an 11 month job hunt, she happened upon an opportunity to work as a secretary for the Girl Scouts in St. Cloud, MN.
The job didn't pay well and required long hours, but it was work. Lundquist would stay with the Girl Scouts for 25 years and make lifelong friendships.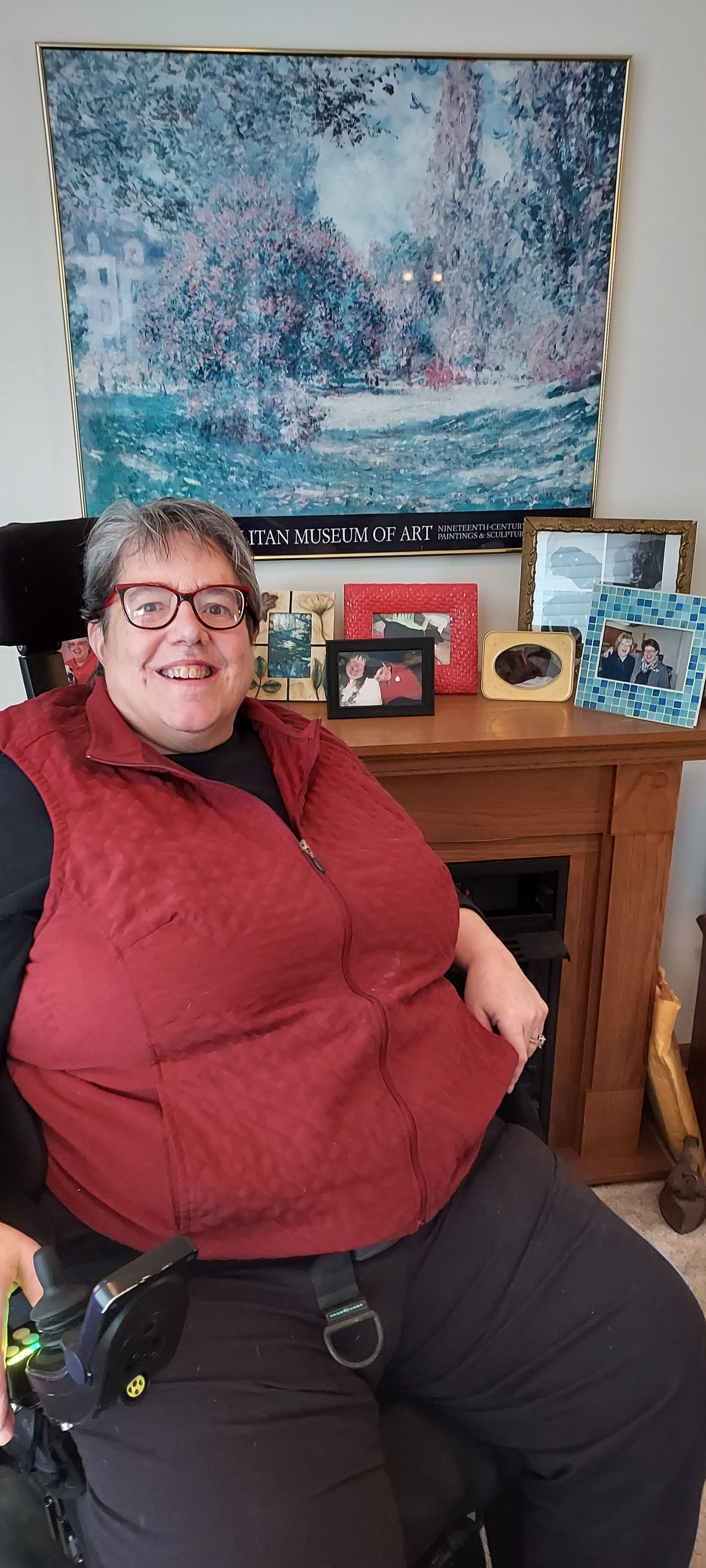 Photo: Lisa Lundquist in her new home.
Lundquist traveled around the United States, continuing her career in nonprofit work with organizations including the Big Brothers and Big Sisters program, United Way, and Opportunity Services which helps people with disabilities gain employment.
In the early 2000s, Lundquist moved from Illinois to Austin, MN to take a job with the Girl Scouts. This wasn't her first time living in Minnesota; Lundquist's nonprofit work had previously taken her to Rochester, MN, and she had fallen in love with the city. When a job opportunity in Rochester became available, Lundquist saw it as the perfect time to move back. However, the rising housing costs made it impossible.
"I was making a pretty good salary and I still needed help."
That's when she heard about First Homes from a friend who was studying Urban Planning.
Lundquist contacted First Homes and learned about their shared equity model that allowed them to sell homes to income qualified buyers for below market rate.
First Homes is a local nonprofit organization that works to create and preserve affordable housing in Rochester and the surrounding communities.
They are able to do this by utilizing the Community Land Trust model. First Homes acquires homes, either by building them or buying existing homes, and subsidizes them to sell them at a more affordable price.
An income-qualified buyer can then purchase the home and enjoy the traditional benefits of homeownership, including built equity, security, and a sense of community.
When the homeowner decides to sell, they retain 50% of their earned equity, while the other half stays in the home to ensure it remains affordable for the next income-qualified buyer.
Through this model, one home can serve countless families who would otherwise be unable to purchase a home.
The program appealed to Lundquist.
"You own a house and you don't pay as much had you not gone through First Homes. I knew I'd split what I earned 50/50," Lundquist said. "That appealed to me too, to think I had helped take care of someone else," she recalled
In 2005, Lundquist was able to buy her new-construction home in Rochester, MN.
"An inspector came to the house to introduce me to my home and I learned so much."
She would live in that home for the next 17 years, getting to know her neighbors and becoming involved in the community. She joined the board of the Rochester Public Library, served as chair of the board for a non-profit organization that helps those who have cystic fibrosis, participated in a local writers group, and joined the First Homes Board of Directors in 2018.
Lundquist enjoyed the sense of community she formed with her neighbors; she was friendly with the neighborhood children and regularly had visitors.
"I would have stayed there till I died if it weren't for the wheelchair."
After the tumor on her spine was removed, Lundquist became a paraplegic and required a wheelchair.
The home she had loved for 17years suddenly became a prison. The doorways were too narrow, the flooring was difficult to navigate with a wheelchair, and the basement of her home was completely inaccessible. The physical barriers were compounded by the grief Lundquist struggled with.
"I asked the doctor, 'Is this my fault?'" she remembered. "I always thought that if I had a strong enough will, things will bend to my mind, but that wasn't the case."
Even with renovations to improve her home's accessibility, Lundquist struggled.
"One day I was completely stuck trying to leave the house," she recalled.
Lundquist's neighbors knew her well and looked after her as much as possible, but after breaking her foot while trying to leave her home the once outgoing Lundquist isolated herself in her home, only venturing out for medical appointments.
"I didn't go anywhere for two years."
Lundquist remained active in the community and on the First Homes board using remote meeting platforms, but living in an inaccessible home was untenable. Now, as a person with a disability living on a fixed income, moving into a more-accessible, market-rate home was not an option.
In 2022, First Homes purchased a single-level home to add to their Community Land Trust that would be accessible for Lundquist. With the addition of a small ramp from the garage into the house, Lundquist would be able to move around the entire home.
"It was the closet that sold the house," Lundquist quipped, excited about having accessible storage.
The change in Lundquist's life after moving into her new home was almost instantaneous. In November of 2022, she went out for a cup of coffee and attended the First Homes board meeting in person for the first time in two years.
"This is Christmas letter news; I'm out having coffee. I'm more confident. Just a little tiny ramp then I'm out. I wouldn't have gone to the board meeting otherwise."
This newly realized independence has been great for the ever-social Lundquist.
"Today my friend came over and I was able to meet her out in the driveway."
Lundquist is excited to embrace her independence in a house that feels like a home again. She continues to serve on the First Homes board and is working on a murder mystery novel.
"I'm really proud of the work First Homes does. You can't start your life until you have a place to live. It's so important that people can afford a house."
Lundquist is happy to use her experience to advocate for housing affordability in order to create stronger communities.